Sunset Piano Opus Two for Twelve Pianos
We just donated to this beautiful Kickstarter Campaign called Sunset Piano Opus Two.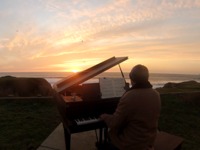 In early July, Mauro is planning to deploy twelve pianos at select locations along the beautiful San Mateo coastline. Anyone can come and play a piano by the sea, anytime.
Mauro is inviting some incredible bay area musicians to join him in bringing attention to the fragile state of the world's oceans, as well as the near extinction of the "personal" piano. Piano manufacturing has dwindled, and the neglect of acoustic pianos has caused thousands of them to end up in landfills. The "Twelve Pianos" project will focus the spotlight on two species with uncertain futures.
The pianos will remain for approximately two weeks, or until the powers that be force their removal. We hope you'll join our campaign to learn more and to show your support for this unusual guerrilla art project.