About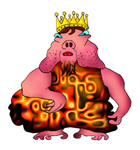 ♥ Facebook ♥ Google+ ♥ Twitter
LavaMind is located in San Francisco, where we also run Founders Space, a startup accelerator.
For years, we've been collaborating with creative people and helping to build award-winning products & services. We're passionate about our work and are always looking to partner with like-minded companies and individuals.
Feel free to contact us with any feedback, ideas or suggestions. We hope you enjoy using our products as much as we did creating them!